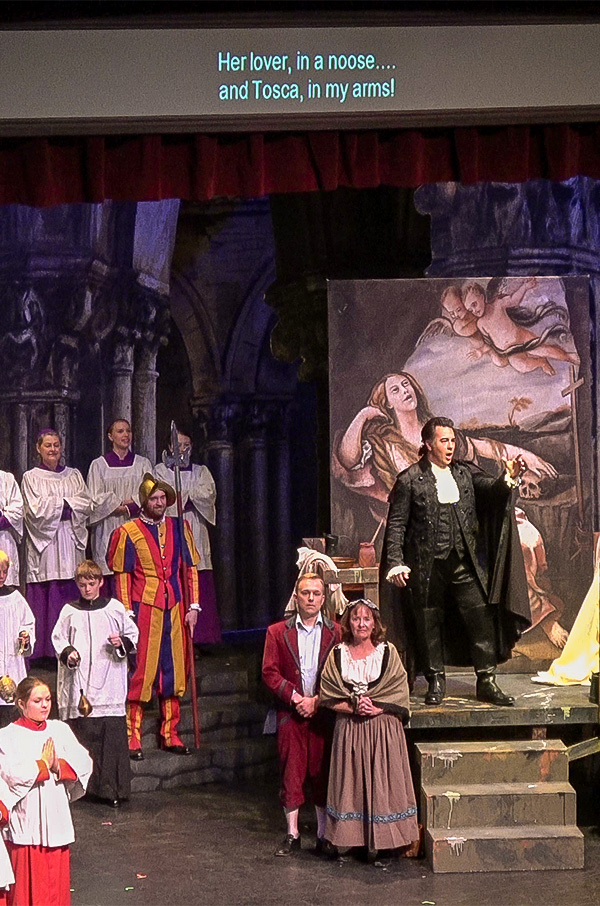 Tosca, courtesy of Intermountain Opera Bozeman
SONYA FRIEDMAN was the first writer of titles for live opera performances, including Met Titles at the Metropolitan Opera and supertitles in opera houses throughout the country. She was also the innovator of opera subtitles for television, for The Metropolitan Opera Presents, Great Performances, and Live From Lincoln Center. She continues to write new titles for live and broadcast opera presentations.
All of Sonya Friedman's opera titles are available for rental. You will receive digital access to the texts as well as a cued score. Arrangements can be made for revisions to suit individual productions.
Some of the companies that have used Sonya Friedman's titles:
Brooklyn Academy of Music
Cleveland Opera
Chicago Symphony Orchestra
Cincinnati College-Conservatory of Music
Duke University
Huntsville Chamber Music Guild
Metropolitan Opera
New Orleans Opera
New York City Opera
Opera Festival of New Jersey
Opera North
Opera Providence
Philadelphia Orchestra
Seattle Opera
Yale Opera
...and many others
These companies have found Sonya Friedman's translations to be literate, concise, poetic, comic (where appropriate!) – and carefully crafted for the pace and nuance of each opera, greatly enriching the opera experience for their audiences.
If you have never used Sonya Friedman's titles before, we invite you to request a perusal script for your next production so you can judge her work for yourself.